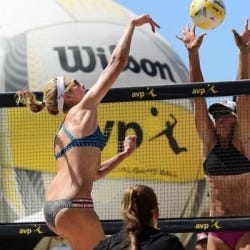 Summer Ross
Volleyball
WHEN YOU FELL IN LOVE WITH THE GAME:

When I was 12 and played in my first CBVA tournament

MOST FOND MEMORY WITH WILSON IN HAND:

Winning AVP Seattle 2017 with Brooke.

YOUR HARDEST BATTLE:

Playing early in the mornings. I like to sleep in (ha ha!).

TIP FOR NEW PLAYERS:

Just play as much as you can. Any reps you can get, even at home with your family. Bump the ball against any wall you can find.

NEXT SEASON I AM GOING TO WIN:

AVP Huntington

YOUR VOLLEYBALL HERO:

Karch Karaly

WHY YOU PLAY WILSON:

It's soft and super light on my shoulder. I feel like I will be able to play til I'm 60 with this ball.