Wilson & Kith Join Forces to Resurface Community Tennis Court
Learn more about the court, its design and the key players that made it happen.

As part of our new Wilson x Kith collab, we teamed up with the NYC Parks Department, RecyleBalls and Laykold to revitalize a tennis court at Ella Fitzgerald Playground in Kissena Corridor Park (187-98 Peck Avenue, Fresh Meadows) in Queens, home of the US Open. But there's more to this community project than meets the eye.
Kari Brown, Manager of Partnerships & Events for Wilson talks about why this project was so important to this community:
"The Ella Fitzgerald Court is utilized on a daily basis by members of the community. They take so much pride in their court, and at times taking matters into their own hands; when the lines started to disappear they went to the local hardware store, purchased paint and painted the lines back on the court themselves. One person in particular, Abby, is a leader/ coordinator of the group of people who play at the court regularly. She and her husband play there daily, and her son and daughter learned how to play tennis on that court. Her son now sponsored by Wilson!"
Wilson Tennis has made steps towards a more sustainable future for the game over the past few years (the Triniti tennis ball and the Naked Series Racket are recent examples). This court resurfacing project is another step towards that mission. To bring the court in Queens to life, Wilson tapped a partner who lives that same mission every day: RecycleBalls. The organization collects and recycles used tennis balls by grinding them down into a material that can be used to build new or resurface old courts, playgrounds, and turf. According to Kari, "Wilson's partnership with Recycleballs began in 2019. We both made a commitment to keep tennis balls out of landfills by repurposing them into relevant products like tennis courts, playgrounds, and turf, while ultimately making tennis a more sustainable sport for generations to come."
Get a glimpse of their process below.
The Kith team designed the visually stunning court, inspired by Queens' rich heritage within game of tennis--from Flushing Meadows to the community parks.
With a green light from the NYC Parks Department, we tapped Laykold (an industry leader in sports surfaces) to bring the court to life.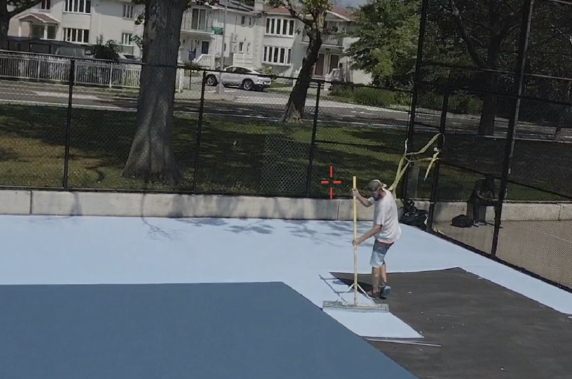 The all-new court at Ella Fitzgerald Playground is a celebration of the Queens neighborhood's love for the game. "I think knowing the impact it was going to have on the community was what made this project so magical," said Jonathan Lau, @WilsonTennis Social Media Manager who got to witness the court transformation firsthand. "It was awesome to see so many people come up, take pictures, and praise the whole initiative. And it was because we had a collection of people come together for the sole purpose of making tennis a more sustainable sport for generations to come."
Court visitors were grateful and relieved to discover that it was still their court, free to play on and enjoy. Daily spectators watched the progress and honked their car horns n encouragement every day.
The grand opening of the court was commemorated with a community BBQ on August 16th. Project leaders from Kith, Wilson, the NYC Parks Department, RecycleBalls, and Laykold celebrated the new public court with members of the tennis community.
The sustainably-minded community project precedes a premium sportswear and sports equipment collaboration between Wilson and Kith that will drop on September 3rd.