Wilson is committed to achieving Level AA conformance with the Web Content Accessibility Guidelines (WCAG) 2.0 and achieving compliance with other accessibility standards. Please contact Customer Service at 1-800-800-9936, if you have any issues accessing information on this website.
Day 1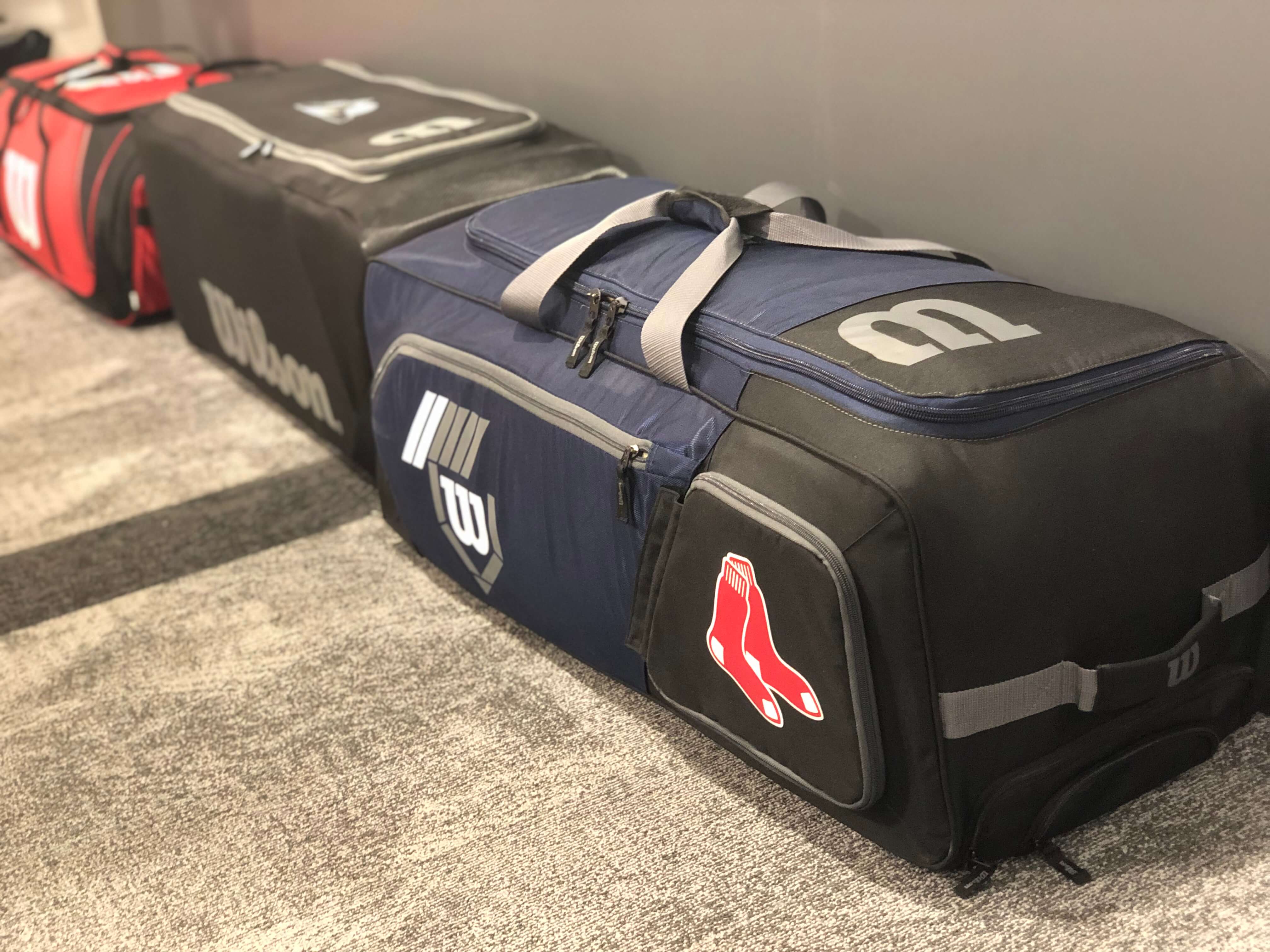 2/15/19 – 11:22 A.M. ET. We're almost there. The past few weeks have been crazy here at Wilson HQ, as we gear up for Spring Training and another year of #GloveDay. Ryan Smith, our product manager for Wilson ball gloves, hopped on a plane and headed down to Florida this week to begin the process of organizing the hundreds of gloves that we'll be bringing to big leaguers across the Grapefruit League.
But there's been a lot more happening than just organizing gloves. MLB Sports Marketing Director Scott Paulson has been on the phone with players across the league, taking last-minute orders for gloves for the upcoming season and adding more players to the #TeamWilson roster. For weeks, custom gamers designed by your favorite players have been pouring in and Ryan and Master Craftsman Shigeaki Aso have been going through them one-by-one to make sure they're exactly what players want. This could be anything from a player wanting a glove laced a certain way or even someone looking for a certain feel in the pocket of their catcher's mitt.
One of the most exciting parts of our pre-Glove Day experience? The arrival of a new year of Game Model gloves. It's safe to say that reigning Wilson Defensive Player of the Year Matt Chapman, American League MVP Mookie Betts and the rest of the GM club have raised the bar in 2019 when it comes to the design of their gloves.
Aso, Scott and the rest of the team are already down at Spring Training – and we'll be bringing you your first dose of exclusive #GloveDay content bright and early on Monday morning. Be sure to follow us on Instagram for up-to-the-minute updates from camp.
---
Day 2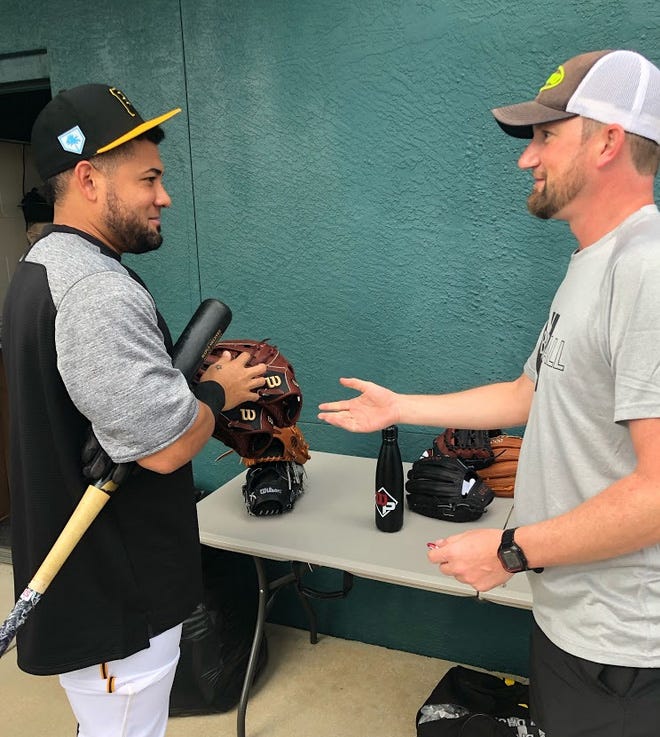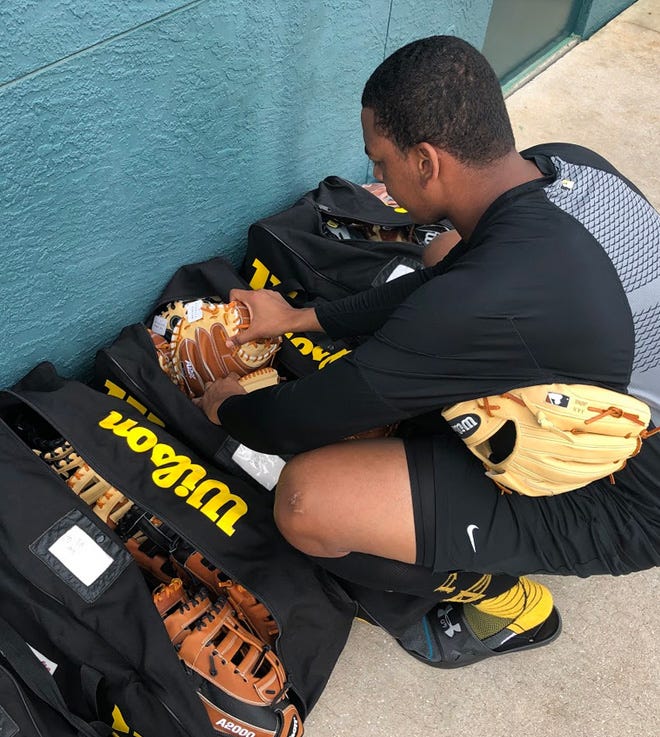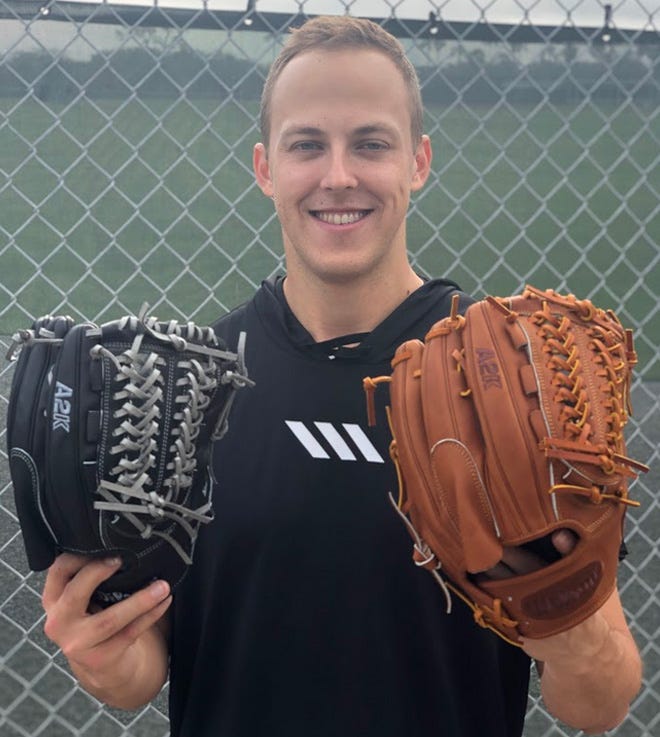 2/18/19 - Bradenton, FL - Pirate City If there's one thing you need to know about Glove Day, it's that there's a lot of work that happens every day BEFORE we go see players across Arizona and Florida. For example, before we opened the week on Monday with the Pittsburgh Pirates, we had a pretty hefty to-do list.
Ryan had hundreds of boxes of brand-new A2Ks and A2000s shipped to Florida last week - and got them organized in a nearby storage unit. They're sorted by series, position, and model to make sure there's a clear system in place. Then every day, we head to the unit and load up our 10 bags with all of the gloves – and shirts! - we'll need to work the next day's camp. Then, the magic happens.
We hopped in the van this morning at 6:10, grabbed some coffee - and headed down the road from Sarasota to Bradenton for our first Glove Day of the spring. When we got to Pirate City, the Spring Training complex for the Pirates, we unloaded the bags, arranged them by position and make (A2000 IF, A2K IF, A2000 LHP, A2K LHP, etc) - this makes it quick and easy for guys to come by in between cage sessions, team meetings and conditioning work to grab their gloves for the upcoming season.
This Pittsburgh squad knows a thing or two about making solid custom leather. Of course, their ace and 2019 Opening Day starter, Jameson Taillon, leads the charge with his pair of custom A2K D33 designs - one with black Pro Stock Select Leather and grey lacing, the other a copper and walnut design. That one, he says, will be, "his baby" this season.
Aaron Slegers, who stands a towering 6'10", veteran outfielder Melky Cabrera and Josh Bell also pick up their custom gamers they designed in the offseason. In addition to his two customs, Ryan also gave Bell a new first base mitt design, which focuses on a deeper pocket that helps first baseman pick balls out of the dirt. Throughout the season, feedback from MLB players like Bell will help shape the next line of Wilson ball gloves. 
After doing some work with Colin Moran on what he's looking for his next glove, we checked the final names off our list, headed back to the storage unit and reloaded the bags for Tuesday - when we'll visit the Philadelphia Phillies and the Toronto Blue Jays in our first double-duty day of the spring.
And while all of this work was happening on the East side of Florida today, Aso and Scott were working the Miami Marlins camp, and our crew in Arizona visited Kansas City.
---
Day 3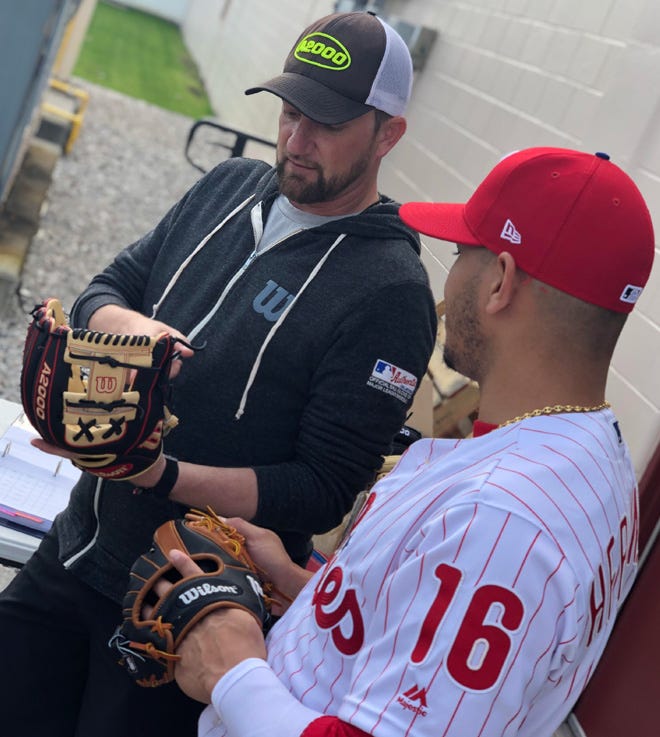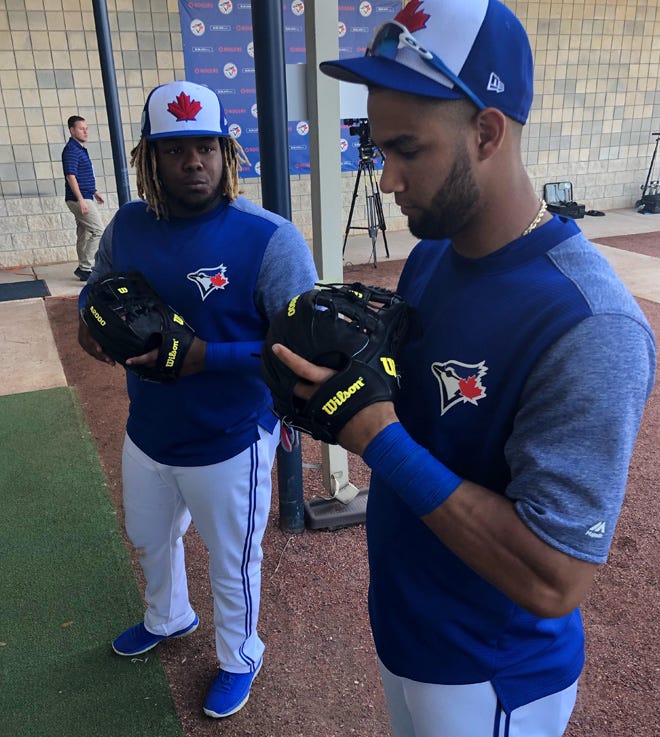 2/19/19 - Clearwater, FL/Dunedin, FL With one Glove Day under our belts in Florida West, the Wilson team hit the road before the sun rose on Tuesday for a doubleheader - a morning with the Philadelphia Phillies, followed by an afternoon in Dunedin with the Toronto Blue Jays. After a quick dose of caffeine, we hit the road from Sarasota to Clearwater - a 45-minute drive.
Kicking off the day with the Phillies was exciting - they're a young team ready to turn the corner in 2019. A big part of this group are the guys who make up #TeamWilson, including Aaron Nola, Jerad Eickhoff, Maikel Franco, David Robertson, Cesar Hernandez and Roman Quinn.
Quinn got us started, picking up his custom A2000 ELO. Designed with Red Pro and Black Pro Stock Leather, the Phillies outfielder loved the lightweight feel of his first-ever custom gamer. From there, SuperSkin seemed to dominate just about every conversation we had Tuesday morning. Phillies ace and 2018 NL Cy Young finalist Aaron Nola included Black SuperSkin on his glove this season for the first time and second baseman Cesar Hernandez got his hands on one of Ryan's latest prototypes - you're gonna want to check out our Instagram Story to get a glimpse for yourself.
After wrapping things up in Clearwater, the Wilson team split up - with half of the group heading to do some work with Dansby Swanson and Ozzie Albies, the Atlanta Braves' exciting young double play combo - and the other half visiting the Toronto Blue Jays down the road in Dunedin.
One of the biggest storylines in baseball this spring is the imminent arrival of the game's top prospect, Vladimir Guerrero Jr. The young third baseman and fellow infielder Lourdes Gurriel Jr.sat down with Ryan to talk about the designs of their custom gloves for this season - and we can tell you that you won't want to miss what they come up with.
We finished the day off by getting guys like Teoscar Hernandez, Clayton Richard and Sam Gaviglio all set up for the season - and we'll head over to Yankees camp early Wednesday to set up the Bronx Bombers with their leather for 2019.
---
Day 4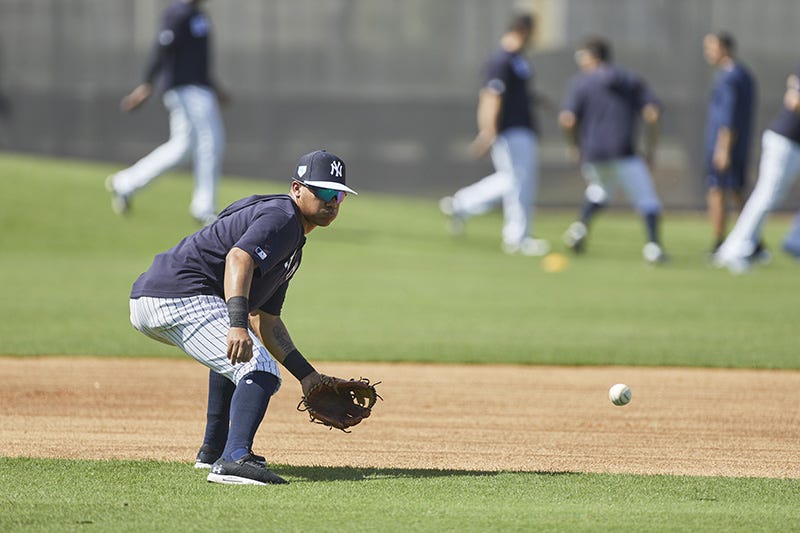 2/20/19 – George M. Steinbrenner Field – Tampa, FL As we wheeled the carts past the Monument Park outside the Yankees' spring training home in the early hours Wednesday morning, the sun was shining down on another Glove Day here in West Florida.
This is a group ready to get back to the top of the division – and a big part of their efforts this season will center around a group of shutdown relievers. Anchored by the likes of Zack Britton, Adam Ottavino, Dellin Betances and Aroldis Chapman, New York boasts one of the most impressive bullpens in the game today.
While you might know these guys for their accolades on the mound, what you might not know is that Britton, Ottavino and Betances have been #TeamWilson for a long time. All three are still using gamers that are at least a decade old – and they have no intentions of retiring them if they can help it. Ryan worked with all three guys, applying glove conditioner and giving the once-overs to make sure their leather is in game-shape for the season.
That being said, they all picked up customs (better safe than sorry – and what's not to love about new custom gamers). Britton went with a black A2000 B125 for his gamer and then designed a pink A2000 X2 for his two-year-old daughter. Ottavino is getting his feet under him in his first camp with the Yankees – and he's already making history. He not only wears the only single-digit uniform number (0) not retired by the organization, but is the first Yankees player ever to do so. Betances finally laid eyes on his custom A2000 GG47 – but, like several of his bullpen mates, it's more of a backup option than anything. He's fiercely loyal to his current Wilson gamer, which is heading into its 11th season in 2019.
And there's more than just pitchers to this group. Outfielder Clint Frazier designed one of the most eye-catching customs of the spring so far, a black and red A2000 KP92. When he designed this red-hot gamer on the Wilson Custom Builder, he embroidered 'Pop Piece' on the thumb. The inspiration? An inside joke and his cat. Later that morning, Frazier was patrolling left field during practice wearing his brand-new glove. It's safe to say that relationship is off to a good start.
Tomorrow, we'll continue the American League East portion of the schedule with half the Wilson Glove Team heading to Orioles camp and the other half hitting the road for Fort Myers to visit the reigning World Series champion Boston Red Sox.
---
Day 5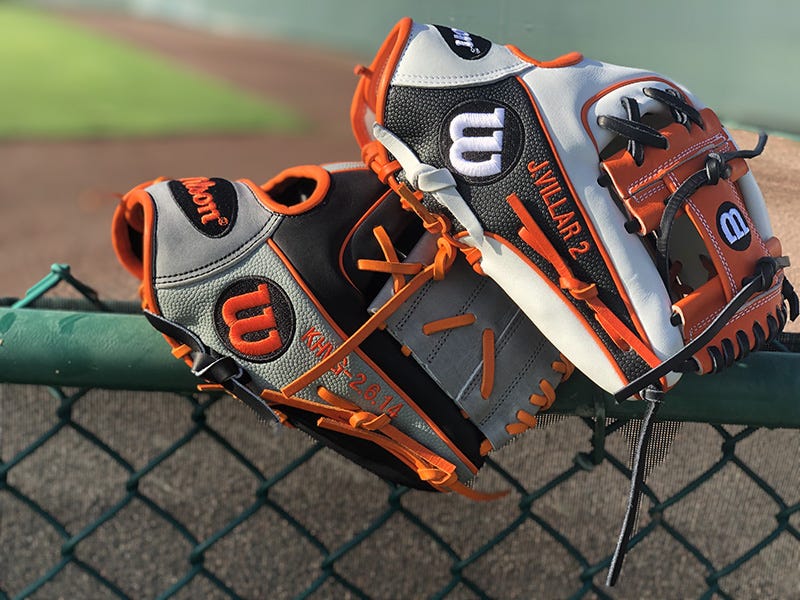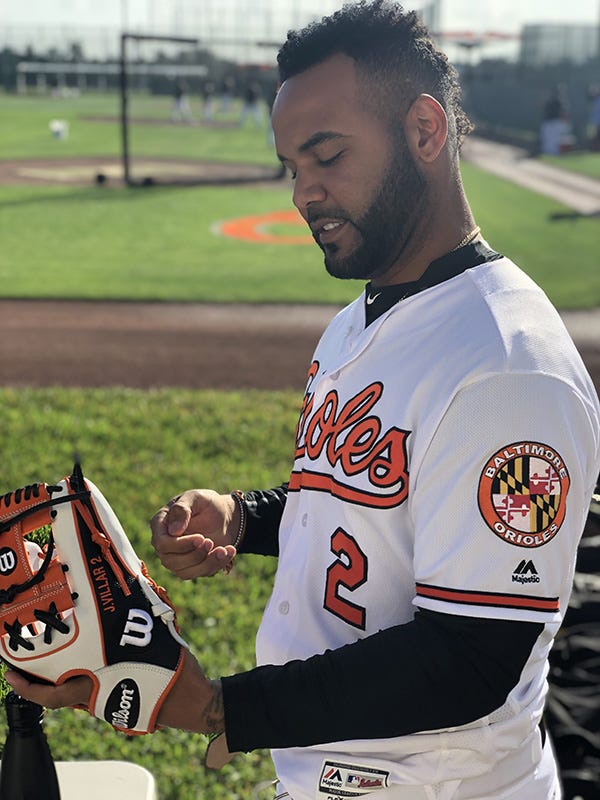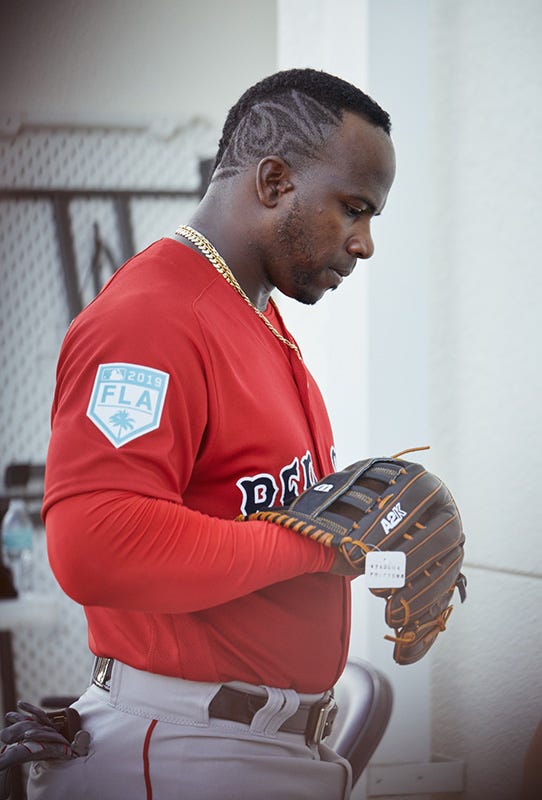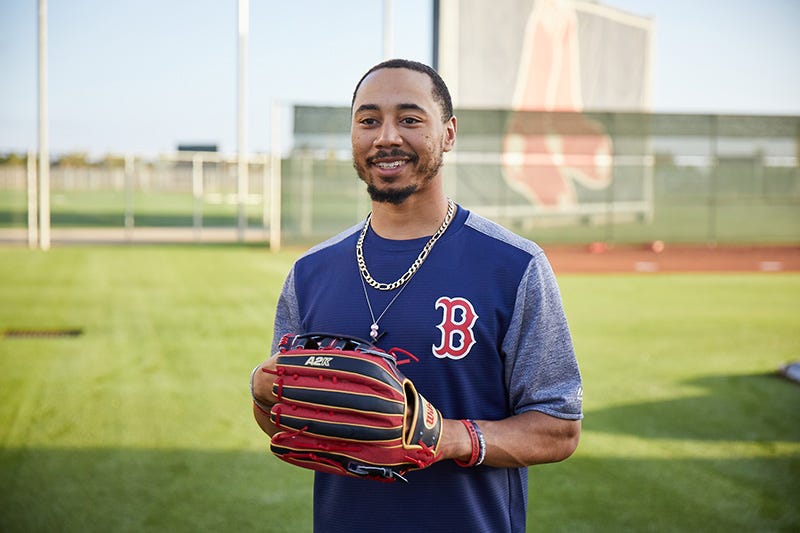 2/21/19 – Sarasota, FL/Fort Myers, FLWith new leadership in the front office and the dugout this spring, change is in the air at Ed Smith Stadium in Sarasota. But one constant? Glove Day.
We always like to talk about the level of customization possible on Wilson gloves, but O's reliever Mike Wright put that front and center on Thursday morning with the shagger he designed for the season. What's so special about it? Well, on a team known for black and orange, he went with a Kelly Green color scheme that immediately drew everyone's attention – which is exactly what Wright was hoping for. His mother was diagnosed with a form of dementia back in 2014, prompting Wright to found his nonprofit, Wright State of Mind, which focuses on caring for those impacted by the disease and its effects. So, this season, he'll be seen with a glove designed for his mom – and one in her favorite color.
Pitcher Andrew Cashner, Alex Cobb and Mychael Givens stopped by, as well. Cobb picked up a pair of custom D33s he designed this offseason, featuring pretty traditional colorways. The same can't be said, however, for infielder Jonathan Villar, who's rocking the O's colors loud and proud on both of his custom gamers.
An hour or so down the road, Wilson Master Craftsman Shigeaki Aso and the rest of the Florida Wilson Glove team visited the reigning champs at JetBlue Park in Fort Myers.
Anyone who was on last year's World Series championship club received their commemorative A2000 gloves in honor of their historic season and the rest of #TeamWilson received new leather ahead of the upcoming campaign.
Reigning American League MVP Mookie Betts picked up his new gamer and longtime Red Sox icon Dustin Pedroia turned the page on how he designed his glove, going back to an all-leather design for the new season.
We're just days from Spring Training games kicking off. Keep an eye out for some of these new gamers on the field as your favorite clubs get ready for the regular season.
---
Day 6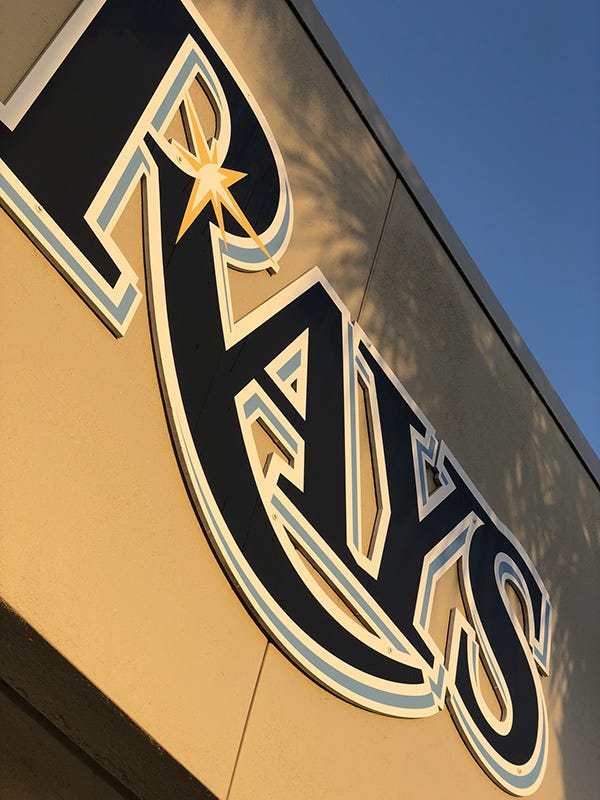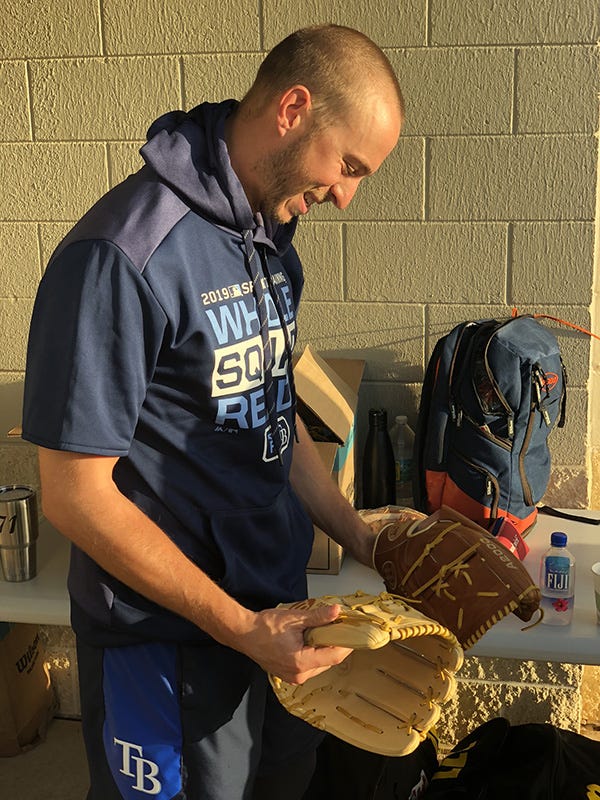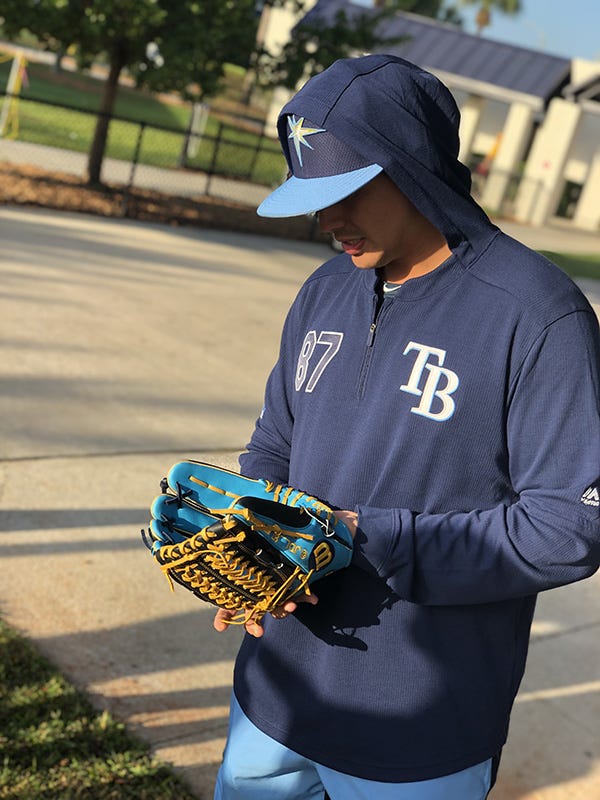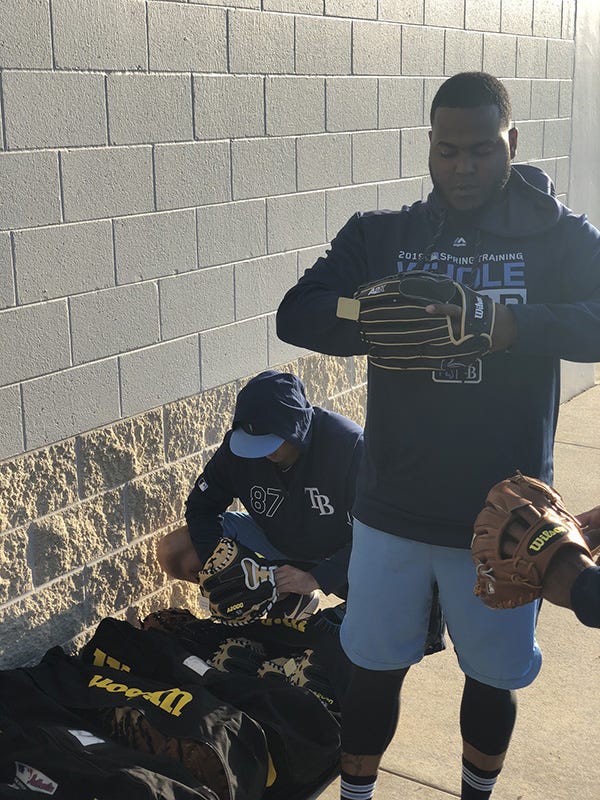 2/22/19 – Port Charlotte, FL It's been a whirlwind of a week here in Florida West and we wrapped up at Charlotte Sports Park, the spring home of the Tampa Bay Rays. Coming off a 90-win campaign, this young team is ready to take the next step and chase their first American League East crown since 2010.
All week, Ryan looked forward to Rays camp. This team has a ton of guys who not only make beautiful custom gamers, but they know a lot about their leather. Infielder Joey Wendle chatted with Ryan for over half an hour about different gloves and models while having him re-lace one of his old gamers. Meanwhile, Rays pitcher Jose De Leon laid eyes on his new glove for 2019 – and this one had special meaning to the right-hander. His cousin, who is active duty in the armed forces, designed it for him – an eye-popping A2K D33 featuring Tropical Blue, Navy and Vegas Gold Pro Stock Select Leather.
Infielder Matt Duffy talked with the Wilson Glove team about his custom A2000 1781. He went with a design a bit less flashy than De Leon, pairing Navy and Saddle Tan Pro Stock Leather in a look that's subdued – but is dripping with style. Reliever Oliver Drake followed the same line of thinking with his gamers, designing a pair of A2000 B2 gloves – swapping Blonde and Saddle Tan back and forth in his designs. Given he played for five teams last season, going with a neutral color scheme is probably the right call.
Aso-san, Ryan and the rest of the team saw a lot of early mornings over the past week, delivering fresh Wilson ball gloves across the state of Florida. If there's one thing we can say about what we saw it's that #TeamWilson is well represented and you won't want to miss the #GloveDay videos that will hit our YouTube channel in March.
---