Wilson is committed to achieving Level AA conformance with the Web Content Accessibility Guidelines (WCAG) 2.0 and achieving compliance with other accessibility standards. Please contact Customer Service at 1-800-401-7967, if you have any issues accessing information on this website.
United States
Change your location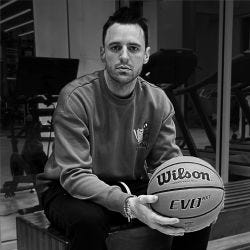 Chris Brickley
Basketball
Country:

United States of America

DOB:

WHEN DID YOU FALL IN LOVE WITH THE GAME:

When I was in 5th grade. I started playing on a summer travel basketball team called the Granite State Raiders. That's when my love for the game started.

WHAT'S YOUR MOST FOND MEMORY WITH WILSON IN HAND:

My most fond memory was when I was 8 years old and I asked my Dad for a Wilson Basketball for Christmas. I was so happy that he got it for me.

YOUR HARDEST BATTLE:

My hardest battle is myself. I am extremely hard on myself. I hold myself to tough expectations.

FAVORITE TIP TO GIVE YOUNG PLAYERS:

Favorite tip to give young players is to do 30 minutes of ball handling at least 5 days a week starting in the 5th grade.

FAVORITE DRILL:

I don't have a favorite specific drill. But I love anything that the player is being pushed mentally and physically.

FINISH THIS SENTENCE: NEXT SEASON I AM GOING TO....:

Continue to help my clients achieve their goals.

WHO ARE YOUR SPORTS HEROES/MENTORS:

Jason Williams and Rick Pitino

WHY DO YOU PLAY AND TRAIN WILSON:

Wilson makes the best basketball hands down. Since a little kid, my favorite ball has always been a Wilson. I'm excited that the NBA is changing over to Wilson also.

NBA Skills Coach Chris Brickley Joins Wilson Advisory Staff
See what "your favorite player's favorite trainer" has in the works with...
Read Article