Wilson is committed to achieving Level AA conformance with the Web Content Accessibility Guidelines (WCAG) 2.0 and achieving compliance with other accessibility standards. Please contact Customer Service at 1-800-401-7967, if you have any issues accessing information on this website.
United States
Change your location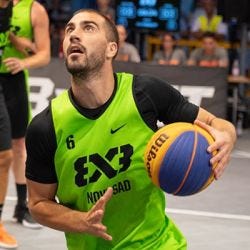 Dusan Bulut
Basketball
WHEN YOU FELL IN LOVE WITH THE GAME:

Love at first sight - age of 9!

MOST FOND MEMORY WITH WILSON IN HAND:

Back at size 7 - for Big 3 combine

YOUR HARDEST BATTLE:

Only one Wilson ball in the game - not enough!

TIP FOR NEW (3x3) PLAYERS:

Believe in yourself!

FINISH THIS SENTENCE - NEXT SEASON I AM GOING TO:

Dominate.

YOUR SPORTS HERO:

Michael Jordan

WHY YOU PLAY WILSON:

Just love it!