Wilson is committed to achieving Level AA conformance with the Web Content Accessibility Guidelines (WCAG) 2.0 and achieving compliance with other accessibility standards. Please contact Customer Service at 1-800-401-7967, if you have any issues accessing information on this website.
United States
Change your location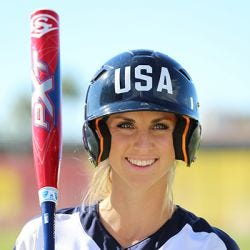 Aubree Munro
Fastpitch Softball
COLLEGE: UNIVERSITY OF FLORIDA NATIONAL TEAM: USA POSITION: C
EARLIEST MEMORY OF THE GAME:

I started playing when I was 4 years old. My mom thought I needed something to get my energy out and my older sister was playing. My grandpa, mom, and aunts all played softball! I started catching when I was 6 years old and never looked back.

FAVORITE PLAYER GROWING UP:

I grew up in Brea, CA really close to Anaheim so I grew up an Angels fan. I loved Benji Molina. I got his autograph a couple times and he was always SO nice. He even took my mitt into the dugout to make sure his brother Jose would also sign it.

COMMITTING TO PLAY:

I remember calling Coach Walton and told him I wanted to be a Gator, he asked me what number I wanted and I blurted out I would just about die if I could be #1. He said it was mine and it sealed the deal knowing that I chose the right place.

BEING A COLLEGE ATHLETE:

I struggled my freshman year because I wasn't performing very well and couldn't leave my frustrations at the field. It took time to balance who I was as a person and who I was as an athlete. And then add in that I was exhausted and away from home.

OTHER DESIRED POSITION:

Outfield! I would love to be able to throw people out at the plate. And the idea of being the last line of defense seems awesome to me!

BIGGEST CAREER MOMENT:

There have been a few! But this past summer in the gold medal game of Worlds against Japan, we were in the 10th inning, down by two runs and I came up to bat with the tying run on 3rd with 2 outs and hit a game-tying ground rule double.

MOTIVATION:

I choose to try and prove the people who always believed in me right.I look at catching as a craft to master.I also want to continue to grow my platform so I can reach more people and be a light for Christ and the Olympics is the biggest platform.

SOFTBALL GAINING OLYMPIC SPORT STATUS AGAIN:

It means everything. I grew up with the Olympic dream and it was stripped away. A generation of players grew up without that dream. I've got little sisters that play and when it was voted back in all I could think about was that opportunity.

SOFTBALL REINSTATED MEANING:

Everyone is going to be investing in softball again. That means that the game is going to grow and competition is going to get better across the board. We need that in order for the game grow like our counterparts in baseball.