Wilson is committed to achieving Level AA conformance with the Web Content Accessibility Guidelines (WCAG) 2.0 and achieving compliance with other accessibility standards. Please contact Customer Service at 1-800-401-7967, if you have any issues accessing information on this website.
United States
Change your location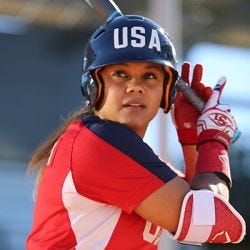 Kelsey Stewart
Fastpitch Softball
COLLEGE: UNIVERSITY OF FLORIDA NATIONAL TEAM: USA POSITION: INF
EARLIEST MEMORY OF THE GAME:

When I was in 10U, we faced a girl who threw super hard for our age. I was 8 at the time because I always played up.But, long story short she hit me in my knee when I was up and I think in that moment I wanted to quit softball and never look back.

FAVORITE PLAYER GROWING UP:

Softball: Growing up I looked up to Natasha Watley, it hasn't changed over time at all. She still is amazing. Baseball: Derek Jeter was who I used to always look up to but now I have to say Javier Baez, he is literally glove goals!

COMMITTING TO PLAY AT FLORIDA:

It was a dream come true. There is nothing like Gator Nation and you feel that commitment from everyone as soon as you decide to become a part of the family.

BEING A COLLEGE ATHLETE:

The first thing I think of is time management. We are up at 5:30 and don't go to sleep till midnight. Being a student athlete is a full-time job. People forget those who are in college are kids and their criticism is unreal. But it was worth it.

OTHER DESIRED POSITION:

I think I would be a catcher. I see people like Aubree Munro and they are so cool to me. You get to basically run the game and set the tempo. I have a lot of respect for catchers.

BIGGEST CAREER MOMENT:

I would have to say this last World Championship in 2018. I got the winning hit to win Worlds and take us to the 2020 Olympics.

MOTIVATION:

It doesn't take much to motivate me, but even having the chance to get the opportunity to play in 2020 is the driving force. But, my family and the girls who dream of being where I am motivate me daily. I never take a single day for granted.

SOFTBALL GAINING OLYMPIC SPORT STATUS AGAIN:

It was a dream that was taken away when I was little. Then at the perfect time, it was brought back and a dream once more. Representing your country is an honor in itself, but getting to represent your country on the biggest stage is everything.

SOFTBALL REINSTATED MEANING:

Softball is continually growing each and every year. It is so cool to see and be a part of. I think with softball being reinstated you'll see the younger generation start to dream again and people from all walks of life taking a look at softball.