Wilson is committed to achieving Level AA conformance with the Web Content Accessibility Guidelines (WCAG) 2.0 and achieving compliance with other accessibility standards. Please contact Customer Service at 1-800-401-7967, if you have any issues accessing information on this website.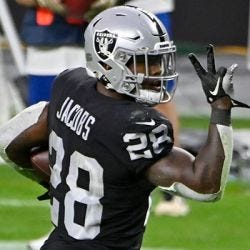 Profile
Country: United States of America
DOB:

February 11, 1998

Las Vegas Raiders
Equipment
Team: Las Vegas Raiders
Position:
WHEN DID YOU FALL IN LOVE WITH THE GAME: 5th grade…playing organized youth football back in Tulsa, Oklahoma
WHAT'S YOUR MOST FOND MEMORY WITH WILSON IN HAND: Playing Sandlot football in my younger years and always having a Wilson Football in my hands
YOUR HARDEST BATTLE: My first NFL game vs. the Denver Broncos. I scored 2 TD's in that game and we won but it was a very physical game and from that moment on…I knew what the NFL was all about
FAVORITE TIP TO GIVE YOUNG PLAYERS: If you Love the Game…set goals, put in the work to achieve those goals, and follow your Dreams. Never let anyone discourage you from accomplishing them…no matter what.
FINISH THIS SENTENCE: NEXT FALL I AM GOING TO.... : "Get in my Duffy!"
WHO ARE YOUR FOOTBALL HEROES: Adrian Peterson, Marcus Allen, LaDainian Tomlinson
WHO IS YOUR BIGGEST ROLE MODEL/MENTOR: My father
WHY DO YOU PLAY WILSON: When you think of footballs…you think of Wilson! It's the only football that I've ever played with.