Wilson is committed to achieving Level AA conformance with the Web Content Accessibility Guidelines (WCAG) 2.0 and achieving compliance with other accessibility standards. Please contact Customer Service at 1-800-401-7967, if you have any issues accessing information on this website.
United States
Change your location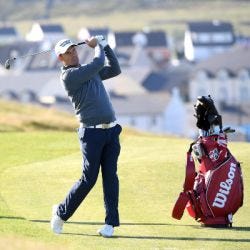 Padraig Harrington
DOB:

Birth Place:

Dublin, Ireland

Residence:

Dublin, Ireland

Achievements:

3-Time Major Champion
31 Professional Victories
15-Time European Tour Winner
6-Time PGA Tour Winner
4-Time Ryder Cup Champion
2020 Ryder Cup Captain

PGA Tour Awards:

2007, 2008 Open Champion
2008 PGA Championship Winner
2008 PGA Player of the Year
2008 PGA Tour Player of the Year

European Tour Awards:

2006 European Tour Order of Merit Winner
2007, 2008 European Tour Golfer of the Year

Irons:

FG Tour V6 Irons (5-PW), FG Tour V4 Utility Iron (4)

Wedges:

FG Tour PMP Wedges (52°, 54°)

Hybrids:

D300 (17°)

Putter:

Infinite Southside Putter
What's In Padraig Harrington's Bag?