Wilson is committed to achieving Level AA conformance with the Web Content Accessibility Guidelines (WCAG) 2.0 and achieving compliance with other accessibility standards. Please contact Customer Service at 1-800-401-7967, if you have any issues accessing information on this website.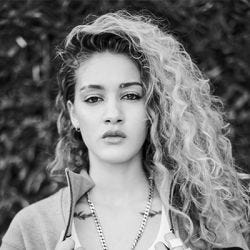 Profile
Country: United States of America
Equipment
Hometown: Atlanta, Georgia, USA
Sport: Basketball
Bio: Beija Valez is a multi-faceted creative from Los Angeles. Growing up basketball was an integral part of Beija's life. Today, she is a model, designer, creative consultant, stylist, on-camera host, and yes, still an athlete.
Words to live by: Don't go searching for answers. Live in the questions, and the answers will come.