Wilson is committed to achieving Level AA conformance with the Web Content Accessibility Guidelines (WCAG) 2.0 and achieving compliance with other accessibility standards. Please contact Customer Service at 1-800-401-7967, if you have any issues accessing information on this website.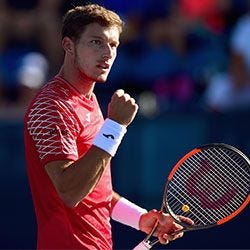 Pablo Carreno Busta
Country:

Spain

DOB:

Racket:

Burn 100

String Pattern:

18x20

Strings (Main):

Luxilon ALU Power Rough

Strings (Cross):

Luxilon ALU Power Rough

Overgrip:

Pro Overgrip
Pablo Carreno Busta's Featured Gear
Pros often customize the racket they use. Racket specifications on endorsed consumer models may vary from the models used by Pros for match-play.