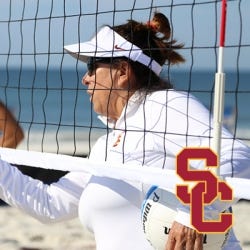 Anna Collier
COACHING HISTORY:

Head Coach – University of Southern California, 2011-present
Head Coach – Team USA Beach Volleyball, 1996 & 2000
2014 AVCA National Coach of the Year

KEY DATES, WINS:

2016 & 2017 NCAA Beach National Champion
2016 & 2017 Pac-12 Champion
2015 AVCA Collegiate Sand Volleyball National Champion

WHEN YOU FELL IN LOVE WITH THE GAME:

When I was a sophomore at USC, one day I drove down to Hermosa Beach. It was there, when I stepped out of the car that I saw a beach volleyball tourney being played at the pier. At that moment, I knew that was what I wanted to do for the rest of my life.

MOST FOND MEMORY WITH WILSON IN HAND:

My most fond memory of playing with a Wilson ball would have to be witnessing our USC beach team as they won both the 2016 and 2017 NCAA championships. I will never forget when the final balls hit the sand and our teams rushed the court to celebrate.

YOUR HARDEST BATTLE:

The absolute toughest battle I've ever had the privilege of being a part of was the 2017 NCAA championship. It was highest level of collegiate beach volleyball in the world and went down to the very final point.

TIP FOR NEW PLAYERS:

Take the time to learn the game from a real beach coach before you just go and enter a tournament. Even though you will also learn a lot from going through that process, you'll definitely appreciate having taken the time to get the proper coaching.

FINISH THIS SENTENCE: NEXT SEASON I AM GOING TO WIN _____________________.:

Another NCAA championship for USC!

COACH YOU LOOK UP TO:

Phil Jackson

WHY YOU PLAY WILSON:

Because it's the best!