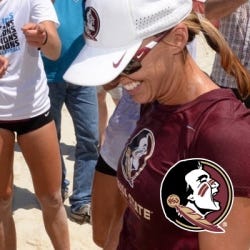 Brooke Niles
COACHING HISTORY:

Head Coach – Florida State, 2015-present
2016 AVCA National Coach of the Year

KEY DATES, WINS:

2017 NCAA Beach Final Four (4th place)
2016 NCAA Beach Runner-Up

WHEN YOU FELL IN LOVE WITH THE GAME:

I started playing beach volleyball with my parents as soon as I could walk and loved it from the very beginning.

MOST FOND MEMORY WITH WILSON IN HAND:

Winning my first tournament was amazing, but second to that was my first season coaching at FSU, winning the match to get us to the national championship game.

YOUR HARDEST BATTLE:

My hardest battle as a coach has always been when we play Hawaii. For some reason, it always comes down to the last court and overtime.

TIP FOR NEW PLAYERS:

Always come to practice ready to learn and with a good attitude.

FINISH THIS SENTENCE: NEXT SEASON I AM GOING TO WIN _____________________.:

A national championship with my players at FSU!

COACH YOU LOOK UP TO:

Greg Popovich

WHY YOU PLAY WILSON:

Wilson is the best ball hands down!