Wilson is committed to achieving Level AA conformance with the Web Content Accessibility Guidelines (WCAG) 2.0 and achieving compliance with other accessibility standards. Please contact Customer Service at 1-800-401-7967, if you have any issues accessing information on this website.
United States
Change your location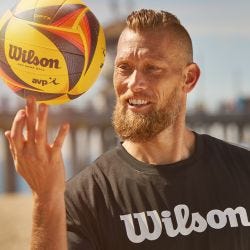 Casey Patterson
Volleyball
Country:

United States of America

WHEN YOU FELL IN LOVE WITH THE GAME:

When I was 14. I was playing basketball full time and my Mom made me tryout for the Boy's Volleyball team. I didn't want to play but after I tried out I was hooked.

MOST FOND MEMORY WITH WILSON IN HAND:

Winning my first AVP championship in 2009. The Coney Island open 5 days after my first child (Cash) was born.

YOUR HARDEST BATTLE:

Any time I had to face Phil.

TIP FOR NEW (BEACH) PLAYERS:

Don't get discouraged. Beach is a game of survival. The more you play the better you will get at surviving the elements and tough situations.

NEXT SEASON I AM GOING TO WIN:

The Manhattan Beach open. I want another Plaque!

YOUR VOLLEYBALL HERO:

The longer I play the more it changes. I would have to say because I was able to play against him, Todd Rogers. He was able to balance coaching, fatherhood and siding out every ball for a very long time.

WHY YOU PLAY WILSON:

The Wilson is the best ball in all of beach volleyball. From the touch and ability to carve the ball to the overall feel and durability, it has been my favorite ball to play with for over 15 years.