Wilson is committed to achieving Level AA conformance with the Web Content Accessibility Guidelines (WCAG) 2.0 and achieving compliance with other accessibility standards. Please contact Customer Service at 1-800-401-7967, if you have any issues accessing information on this website.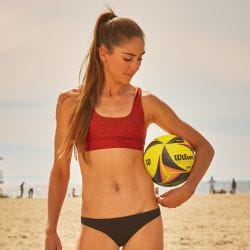 Equipment
When you fell in love with the game:
Being from Texas, I wasn't exposed to beach volleyball until my junior year of college and I instantly fell in love. I love how it requires you to be the most complete and well rounded player you possibly can be.
MOST FOND MEMORY WITH WILSON IN HAND:
My favorite memory with Wilson was when my younger sister, Kristen, and I had our pepper sessions outside after dinner. We would play for HOURS, laughing, and getting eaten up by mosquitos until my mom would drag us in to get ready for bed.
YOUR HARDEST BATTLE:
My hardest battle with volleyball is living away from my family. When I graduated college I knew I wasn't finished competing/growing in this sport. Volleyball has allowed me to live in Switzerland, Poland and now California.
TIP FOR NEW PLAYERS:
My tip for new beach players is to believe in yourself and be a good teammate. In beach volleyball, with no subs, you have to stay confident in yourself and trust your preparation while always being there for your partner.
NEXT SEASON I AM GOING TO WIN:
Because I have put in the work and prepared myself to the best of my ability
YOUR VOLLEYBALL HERO:
My all time volley hero is Misty May-Treanor. Her competitiveness and success speak for itself, but I remember watching her and it was so obvious how much fun she was having. She loved this sport and you could see it everytime she was out there.
WHY YOU PLAY WILSON:
I began playing for the joy and competitiveness and now I continue to play with hopes to inspire others to chase their dreams no matter how scary or difficult they may seem.