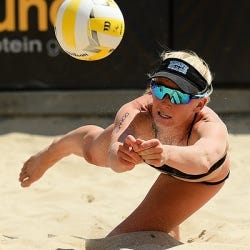 Kelly Reeves
Volleyball
When you fell in love with the game:

At the age of 10 or 11. I remember growing up going to the beach during the summers and would pepper with my mom. She used to play back in the day, and I remember tagging along with her to her practices, shagging balls.

Most fond memory with Wilson in hand:

Playing center court in AVP Chicago 2017. We were up 21-20 in the second, at the service line I remember looking at the Wilson ball and telling myself 'Go for it' I ripped a jump serve, got an ace, and a third set. A memory I will never forget.

Your hardest battles:

Being your own worst critic

Tip for new beach players:

Play as much as you can. The more touches you get with the ball, the better your ball control will become.

Next season I am going to win:

My first AVP event

My volleyball heros :

Misty May and Liz Masakayan

Why you play Wilson:

It's my favorite ball to play with, and one that I touch every single day!