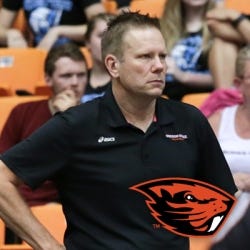 Mark Barnard
COACHING HISTORY:

Head Coach – Oregon State University, 2016-present
Assistant Coach – Oregon State University, 2005-16
Head Coach – Australia Women's Volleyball Team, 2001-05, 2014-15

KEY DATES, WINS:

World Championship Qualifier, Sept. 2001 – the first time Australia ever qualified for the World Championships. It was done on the back of a five-set win against Kazakhstan, winning 18-16 in the fifth set in front of a 10,000-strong crowd in Macau.

WHEN YOU FELL IN LOVE WITH THE GAME:

As a Year 7 student (age 12) in high school in Australia, I went to a Volleyball camp for a week and have been hooked on the game ever since.

MOST FOND MEMORY WITH WILSON IN HAND:

The last match of the 2014 regular season. We had just beaten Oregon and had cemented our place in the NCAA tournament, Oregon State's first return to the NCAA tournament since 2001.

YOUR HARDEST BATTLE:

Putting Oregon State on the volleyball map (still not there yet!)

TIP FOR NEW PLAYERS:

Do it all. Don't be pigeon-holed into playing one position. Be a volleyball player, not a position-specific player.

FINISH THIS SENTENCE: NEXT SEASON I AM GOING TO WIN _____________________.:

The Pac 12 Conference championship.

COACH YOU LOOK UP TO:

Terry Liskevych, former head coach at Oregon State University and former USA Olympic Coach (1985-96).

WHY YOU PLAY WILSON:

The brand and the quality.