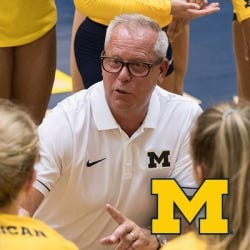 Mark Rosen
COACHING HISTORY:

Head Coach – University of Michigan, 1999-Present
Head Coach – Boise State University, 1998
Head Coach – Northern Michigan University, 1994-97
Head Coach – Cal State Bakersfield, 1992-93

KEY DATES, WINS:

2012 NCAA Division I Final Four
2009 NCAA Division I Elite Eight
1994 NCAA Division II National Champion
1993 & 1995 NCAA Division II National Runner-Up

WHEN YOU FELL IN LOVE WITH THE GAME:

My senior year in high school was my first introduction, and then during my freshman year in college, it became my passion.

MOST FOND MEMORY WITH WILSON IN HAND:

The first time the Wilson i-COR balls showed up that were customized for Michigan!

YOUR HARDEST BATTLE:

Winning at Hawaii in their season opener in 2007. We were up 2-0 and then had to fight off a great comeback, down 14-12 in the fifth to pull it out, 16-14.

TIP FOR NEW PLAYERS:

Work hard on the fundamentals of the game. There are no shortcuts. Do your best to develop into an all-around player rather than only have the skills for one particular position.

FINISH THIS SENTENCE: NEXT SEASON I AM GOING TO WIN _____________________.:

We don't talk a lot about winning. Next season, we are going to be the very best we are capable of being. If we take care of that process, what it wins us will take care of itself.

COACH YOU LOOK UP TO:

Russ Rose, Jim Stone, Jerritt Elliott

WHY YOU PLAY WILSON:

It's a great ball with a great feel that our players love. It has the best durability of any ball we've used. And, I love the fact that they customize the Michigan ball for our program!