Wilson is committed to achieving Level AA conformance with the Web Content Accessibility Guidelines (WCAG) 2.0 and achieving compliance with other accessibility standards. Please contact Customer Service at 1-800-401-7967, if you have any issues accessing information on this website.
United States
Change your location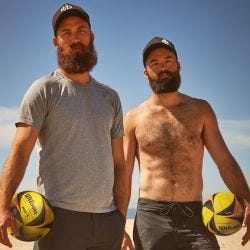 McKibbin Brothers
Volleyball
The McKibbin brothers, Maddison and Riley, grew up on the island of Oahu playing volleyball in their backyard and on the sand of the Outrigger Canoe Club. They are the only brothers in the history of the sport to have played together in high school, college, professionally overseas and now professionally on the beach on the AVP tour. Born two years apart, the McKibbins attended Punahou High School, leading the boys varsity volleyball team to a pair of state championships. In high school, they represented the United States at the FIVB Beach Volleyball Junior World Championships in China, Bermuda and The Netherlands. After both accepting scholarships to the University of Southern California, the McKibbins led the USC men's volleyball team to two NCAA Final Four appearances. On the professional volleyball circuit, they played one year together in Greece before joining forces on the AVP tour in 2015. The McKibbins have played in 12 AVP events as partners, finishing as high as ninth place four times. An injury to Riley separated them for five tour stops last season, during which time Maddison won the 2017 San Francisco Open (and sibling bragging rights). The McKibbins have strong family ties to volleyball, specifically at USC. Their uncle, Owen, also helped the Trojans to a pair of Final Fours, and their aunt, Claudia, won a national championship there in 1980.
Hometown:

Honolulu, HI

College:

Southern California

Best AVP Finish:

Maddison: 1st (San Francisco, 2017)
Riley: 9th (4 times)