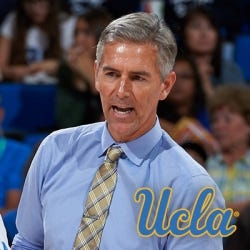 Michael Sealy
COACHING HISTORY:

Head Coach – UCLA Women's Volleyball 2010-present
Associate Coach – University of Hawaii Women's Volleyball 2006-2009
Assistant Coach – UCLA Men's Volleyball 2001-2005
2011 AVCA National Coach of the Year

KEY DATES, WINS:

2011 NCAA Division I Champion

WHEN YOU FELL IN LOVE WITH THE GAME:

Junior High. Every night was about finishing homework and riding my bike to the open gym so I could play doubles.

MOST FOND MEMORY WITH WILSON IN HAND:

The first time the shipment of Wilson UCLA logo volleyballs were delivered to campus. It felt so professional.

YOUR HARDEST BATTLE:

Having to deal with pre-match adrenaline and anxiety all match long. I don't get to exercise during the match to expend it.

TIP FOR NEW PLAYERS:

If you can be ok being really bad … you have a chance to get really good.

FINISH THIS SENTENCE: NEXT SEASON I AM GOING TO WIN _____________________.:

some and I am going to lose some … both are really valuable.

COACH YOU LOOK UP TO:

Anyone that has the courage to be authentic.

WHY YOU PLAY WILSON:

I think that it plays better than all other balls on the market. It has by far the best touch.