Wilson is committed to achieving Level AA conformance with the Web Content Accessibility Guidelines (WCAG) 2.0 and achieving compliance with other accessibility standards. Please contact Customer Service at 1-800-401-7967, if you have any issues accessing information on this website.
United States
Change your location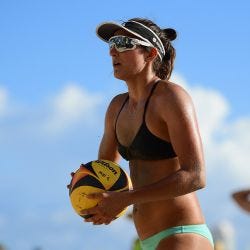 Sarah Sponcil
Volleyball
Country:

United States of America

DOB:

When did you fall in love with the game?:

I fell in love with the game at the age of 7. I absolutely adored the fact of flying in the air for balls and knowing it would be a soft graceful landing when I came back to earth haha

What is your fondest memory with Wilson in hand?:

One of my fondest memory with a Wilson in hand was getting a brand new Wilson ball signed by both Sinjin Smith and Randy Stoklos at one of the first CBVA tournaments I ever won in California.

What was your hardest battle?:

One of the hardest and most fun battle l had was playing in my first AVP with Lauren Fendrick at the AVP Austin in 2018 and playing April Ross and Alix Klineman in the finals where we ended up barely losing 19-21, 19-21

What is your tip for new players?:

My tip for new players is to always take pride in the small details, the small skills because at the end of the day those small details matter

Fill in the blank: Next season I am going to....:

Next season I am going to win my first AVP tournament!!

Who is your volleyball hero?:

My volleyball hero is Misty May! I've gotten to shake her hand once and it happened so fast. I was like "Wait did that just happen?" I've loved the way she played the game but more importantly how genuine, down to earth and humble she seems to everyone

Why do you play Wilson?:

I play Wilson because it cares about its athletes, it allows you to be nothing but yourself, and it's open to new and better ideas all while striving for what we all strive for.....greatness!