Wilson is committed to achieving Level AA conformance with the Web Content Accessibility Guidelines (WCAG) 2.0 and achieving compliance with other accessibility standards. Please contact Customer Service at 1-800-401-7967, if you have any issues accessing information on this website.
United States
Change your location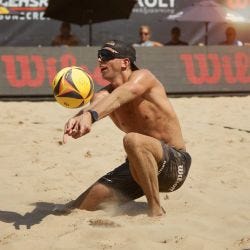 Stafford Slick
Volleyball
Country:

United States of America

WHEN YOU FELL IN LOVE WITH THE GAME:

I got my start playing beach volleyball on the sand courts at Lake Calhoun in Minneapolis, Minnesota but I fell in love with the game during my first visit to California. The sun, sand, sights, and smells of SoCal were intoxicating.

MOST FOND MEMORY WITH WILSON IN HAND:

The Wilson AVP ball was only in my hand for a brief moment; but sealing my first AVP Tournament win with a stuff block is definitely my favorite memory, to date.

YOUR HARDEST BATTLE:

Beach volleyball isn't even on the radar of sports in Minnesota. The decision to pack up my life and move to California to pursue beach volleyball has certainly been one of my hardest battles.

TIP FOR NEW (BEACH) PLAYERS:

There's no bench in beach! In an era of sports specialization, your greatest asset in beach volleyball is versatility. Do your very best to be proficient at every skill. Passing, setting, attacking, blocking, defending, serving.

NEXT SEASON I AM GOING TO WIN:

Tournaments on both the AVP and FIVB Word Tour.

YOUR VOLLEYBALL HERO:

I hope he never reads this...but, Phil Dalhausser. I still address him as 'Beast' in conversation.

WHY YOU PLAY WILSON:

From beginners to professionals, the Wilson ball is the gold standard for beach volleyballs.