Wilson is committed to achieving Level AA conformance with the Web Content Accessibility Guidelines (WCAG) 2.0 and achieving compliance with other accessibility standards. Please contact Customer Service at 1-800-401-7967, if you have any issues accessing information on this website.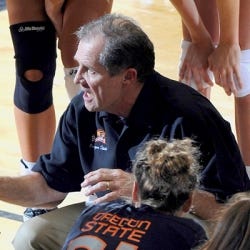 Terry Liskevych
COACHING HISTORY:

Head Coach – Oregon State University – 2005-15
Head Coach – USA Women's National & Olympic Team, 1985-96
Head Coach – University of the Pacific – 1976-84
Head Coach – The Ohio State University, 1974-76

KEY DATES, WINS:

2014 NCAA Sweet 16
1995 FIVB World Grand Prix gold medal, ranked #1 in the world
1992 Barcelona Olympics bronze medal
1979-84 – five NCAA Final Four appearances
1975 & 1976 NCAA Final Four

WHEN YOU FELL IN LOVE WITH THE GAME:

At age 17, when several of my soccer teammates introduced the game to me.

MOST FOND MEMORY WITH WILSON IN HAND:

Creating and executing the first Collegiate All-Star Game in 1988, with Wilson as one of the top sponsors.

YOUR HARDEST BATTLE:

Making Oregon State relevant in collegiate volleyball, accomplished with an NCAA Sweet 16 finish in 2014.

TIP FOR NEW PLAYERS:

Enjoy playing and practicing volleyball. Hone your individual skills.

FINISH THIS SENTENCE: NEXT SEASON I AM GOING TO _____________________.:

Continue making The Art of Coaching Volleyball the best volleyball online platform in the world!

COACH YOU LOOK UP TO:

Bill Walsh, Al McGuire, George Davis

WHY YOU PLAY WILSON:

I have stayed with Wilson for 32 years because they have developed a volleyball line that matched and surpassed every other ball in the marketplace. The Wilson ball is durable, long-lasting and plays true at every contact .