Wilson is committed to achieving Level AA conformance with the Web Content Accessibility Guidelines (WCAG) 2.0 and achieving compliance with other accessibility standards. Please contact Customer Service at 1-800-401-7967, if you have any issues accessing information on this website.
United States
Change your location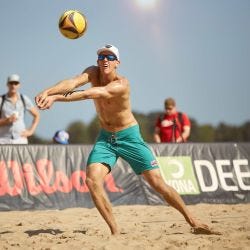 Tri Bourne
Volleyball
WHEN YOU FELL IN LOVE WITH THE GAME:

I was a kid I would play beach volleyball all day at the Outrigger Canoe Club in Waikiki, HI. I fell in love learning just for fun with my friends. We played with the old white Wilson ball with the big ridges, but I like the new ball even better.

MOST FOND MEMORY WITH WILSON IN HAND:

I've had the opportunity to have the ball in my hands on match point in each of the three AVP events that I've won. My fondest memory is the split second that the Wilson ball is on my hand before it hits the sand, and I can add another W to my resume.

YOUR HARDEST BATTLE:

My hardest battle is getting an auto-immune disease during the 2016 offseason and being forced to step away from volleyball.I learned a ton about my self during this time and will apply what I've learned as I return to competition.

TIP FOR NEW PLAYERS:

Be open-minded and absorb as much information as possible. The second you think you know what you're doing, you've lost your edge. Beach volleyball is won by those who have the most balanced combination of insight, instincts and abilities.

NEXT SEASON I AM GOING TO WIN:

...at being the most-bad version of Tri Bourne that I can be.

YOUR VOLLEYBALL HERO:

Uncle Charlie Jenkins introduced me to organized volleyball back in Hawaii. You probably don't know of him and that's what makes him so special. He's had his hand in developing pretty much all the professional/collegiate Hawaiian volleyball players.

WHY YOU PLAY WILSON:

I play Wilson because I can control it better than any other ball. This control gives players the ability to play creatively. This extra touch on the ball enhances our ability to use the entire court, which makes for some amazing rallies.