Wilson is committed to achieving Level AA conformance with the Web Content Accessibility Guidelines (WCAG) 2.0 and achieving compliance with other accessibility standards. Please contact Customer Service at 1-800-401-7967, if you have any issues accessing information on this website.
United States
Change your location
Test Rec Racquet Guide Tabs
The most critical factor when buying a tennis racket is weight. A racket that is too heavy can incur arm, shoulder or wrist discomfort and will slow down your stroke. Conversely, a racket that is too light sacrifices power and can throw off your timing. Most adult strung rackets fall between 9 and 12 oz.
Lighter Rackets (9-10 oz)
Heavier Rackets (11-12 oz)
Pros
More maneuverable, easier to
swing and generate spin
More powerful, more stable and
helps maintain control
Cons
Less powerful, less stable
Higher injury risk and less
maneuverable
Best For
Players with slower, more compact strokes –
typically smaller players, juniors or
anyone with arm discomfort
Aggressive players with long, fast
strokes – typically bigger players
in or near their prime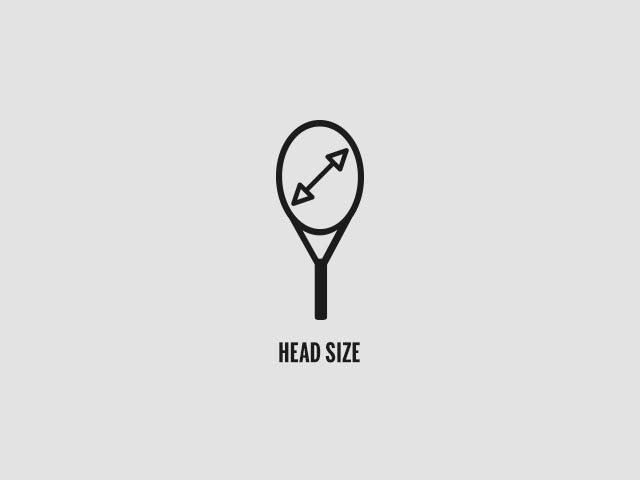 A racket's head size, which is measured in square inches, will have a direct effect on racket performance. As racket head size increases, power and forgiveness also increase. For players who hit the sweet spot consistently, a smaller head size will afford more precision and control. Larger head sizes are classified as oversize (typically 106+ square inches). Any rackets smaller than that qualify as midsize.
Midsize (< 106 sq in)
Oversize (>106 sq in)
Pros
More precision, easier to
quickly maneuver
More powerful, higher margin
for error
Cons
Less powerful, smaller margin
for error
Less precision, more difficult to
maneuver
Best For
More experienced players
who hit the sweet spot
consistently
Beginners or intermediate
players who prefer larger sweet
spot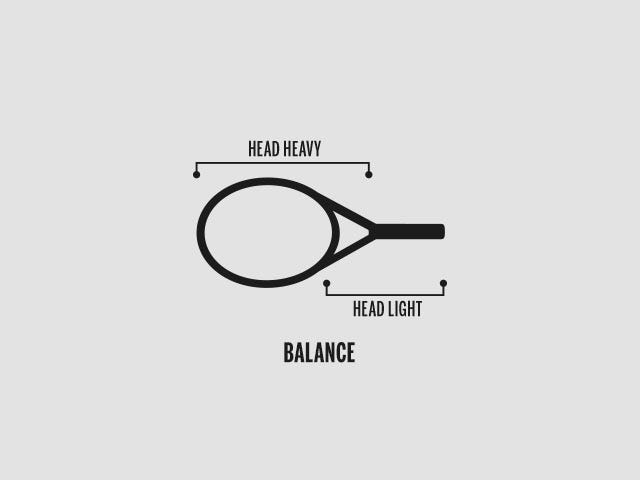 Another subtle factor for racket performance is its balance, which defines the weight distribution. Rackets can either be head-light, head-heavy or even-balanced. Head-light rackets have more weight concentrated toward the handle, whereas head-heavy rackets feature more weight concentrated toward the head. Even-balanced rackets strike a happy medium between the two. Balance is indicated on a point scale, with the larger negative numbers being more head-light and the larger positive numbers being more head-heavy. Smaller numbers close to 0 indicate more evenly balanced rackets.
Head-Light (- pts)
Head-Heavy (+ pts)
Pros
Reduced vibrations in the
handle, easier to maneuver
More powerful, more stable
through swing
Cons
Less powerful, more maneuverable
More difficult to maneuver
Best For
Players who use heavier rackets
and want to swing faster with
more maneuverability
Players who use lighter rackets
and want more stability to keep
racket head from twisting
*Note: Strung rackets will be more head-heavy than unstrung rackets, so be sure to check whether the racket specs are strung or unstrung for accuracy.