LABS DECLASSIFIED INNOVATION STORIES FROM WILSON LABS: TRU 32
THE TRUTH
BEHIND TRU 32
A BLADE THAT GOES BEYOND
Wilson LABS explores the driving inspiration
and innovation for the novel pickelball

When it comes to performance, both consistancy and durability are at the core of what makes an appealing pickleball. TRU 32 not only achieves unparalleled marks for performance in the industry, it was born and bred in your backyard — the United States of America.
HOW DID TRU 32 COME TO BE?
Wilson designers first came together in early 2018 to analyze what would make the best pickleball. They found a clear distinction in the advantages and disadvantages of both pickleball types: two-piece injection-molded balls and one-piece rotocast balls.
"Our aim was to take the best attributes of each ball type and combine them for the truest ball performance from start to finish, but in a totally new and unique way. We needed a wildcard that would make this ball the most preferred ball in the game."
— Chloe Lee
ADVANCED MATERIALS ENGINEER
WILSON SPORTING GOODS
By combining experience from several sports like golf and tennis, Wilson engineers sought out the perfect mix of production, design and composition to create the ultimate pickleball. After a multitude of prototypes and lab testing, TRU 32 emerged as the ball best equipped for game-changing performance.

IT STARTS WITH A DESIGN UNLIKE ANY OTHER
Regardless of sport, ball consistancy is imperative for athletes to feel confident in their game. The next swing, throw, kick or shot relies to a certain extent on the expectations for how the ball will likely perform. Thanks to a cutting-edge design unlike any other in the industry, TRU 32 sets a gold standard for pickleball flight consistancy.
"We discovered that flight consistancy unlocked the door to a ball with incredible potential. So we started investigating the hole pattern on pickleballs with that end goal of improving the ball's flight characteristics, which led to this idea of 32 equally-spaced holes. Our wildcard."
— Chloe Lee
ADVANCED MATERIALS ENGINEER
WILSON SPORTING GOODS
The most defining feature for TRU 32 is its patented 32-Equally Spaced Hole Pattern. Compared to the 40-hole industry standard for outdoor pickleballs, this 32-hole pattern possesses a couple of key factors in its favor: bounce and flight consistency. Fewer holes that are evenly spaced will generally provide more consistent bounce off the ground and the paddle surface. Thanks to the even hole distribution throughout the ball surface, the TRU 32 ball can also rotate on any axis with more consistency than any existing 40-hole patterns out there. This creates more consistent flight with less wobble through the air. See below video showcasing the compelling difference between flight characteristics of the 32-hole pattern of TRU 32 against two competitor 40-hole balls using a flight simulator.
To help support the notion that this unique hole pattern provides unparalleled consistency in its performance, Wilson LABS conducted a test at its Innovation Center between TRU 32 and some of the top competitors in the industry. Using a ball launcher and plotting the landing spot for each ball launched, it became evident that TRU 32 delivered significantly better performance. TRU 32 landed in a significantly tighter area compared to its competitors, indicating the TRU 32 ball flies more consistently with a reduced range of outcomes for truer performance. The precision and playability of TRU 32 proves to be yet another distinct advantage of the evenly-spaced hole design.
FROM THE LAB: FLIGHT CONSISTENCY
Wilson LABS plotted landing spots for TRU 32 and two top competitors when launched at the same angle with the same velocity.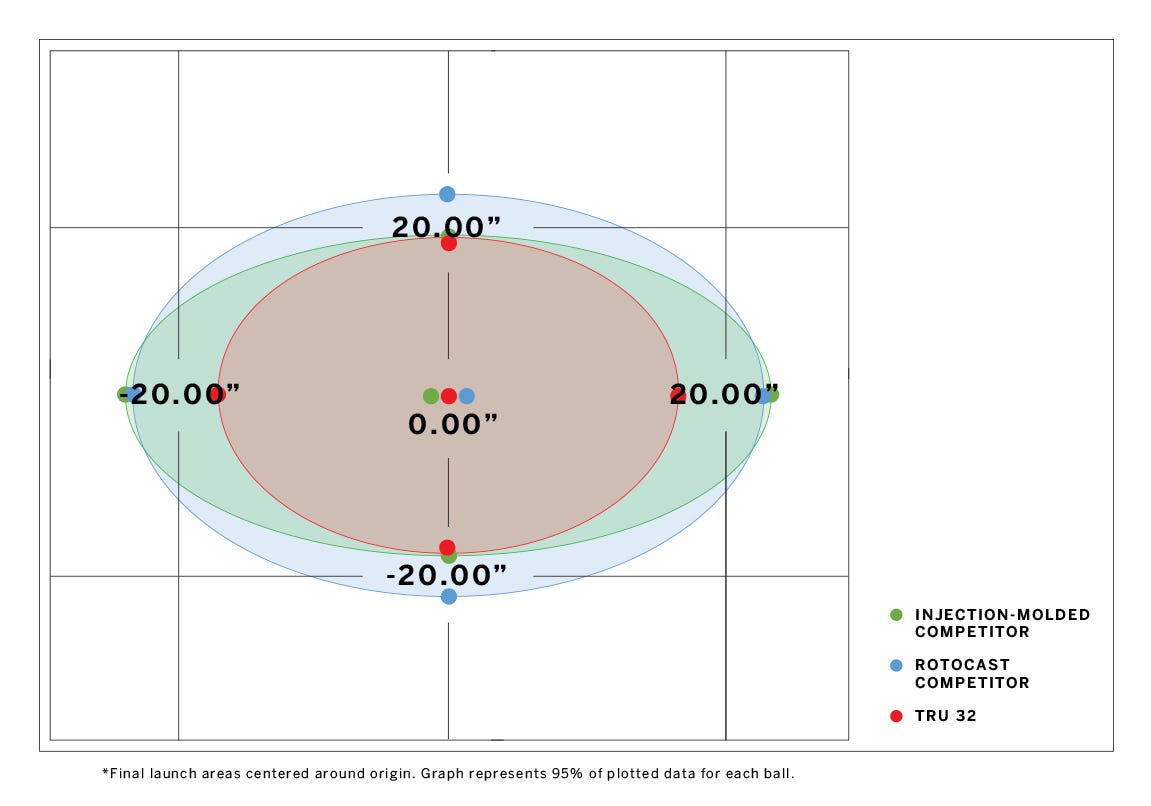 IT CONTINUES WITH A TRULY UNIQUE COMPOSITION
There are two primary ways pickleballs are produced: injection-molded or rotocast. Injection-molded balls consist of two molded halves with holes formed in the molding process. The two halves are then glued together, creating a ball with a seam down the middle. In contrast to this, rotocast balls incorporate the hole-drilling process after the balls are rotationally molded with a one-piece construction, creating a ball without a seam. Some rotocast balls may show a line around the center of the ball that appears as a seam, but it is simply a line created from the mold during the release process.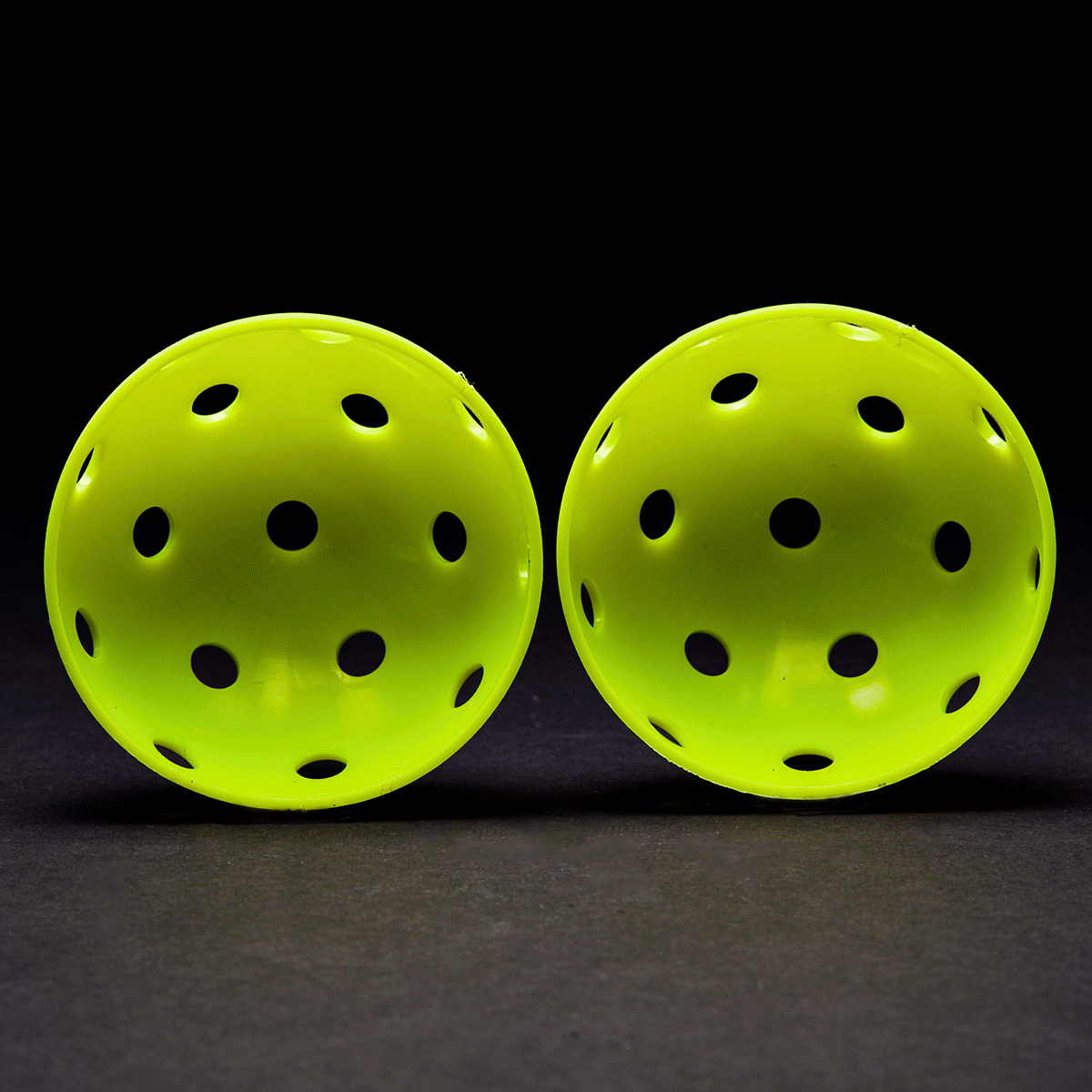 Injection-molded pickleballs are made by injecting a thermoplastic resin into a mold, and then cooling the mold until the resin hardens. This process features both an exterior and interior mold for extremely consistent wall thickness, which in turn delivers a consistent ball construction for more consistent ball mass and weight distribution around the ball.
Rotocast pickleballs are produced by placing a thermoplastic powder into a mold, then heating and rotating this mold until the resin melts and conforms to the inner surface of the mold. This process only uses an exterior mold. Therefore, the centrifugal force of the rotating mold creates the interior geometry of the pickleball. To achieve consistent wall thickness, it would be best to rotate the mold in 3 – orthogonal axes. For cost reasons, most rotocast pickleballs are rotated only in 2 – orthogonal axes, which leads to less consistent wall thickness. That being said, rotocast pickleballs typically feature more consistent playability with regards to rebound and hardness throughout many matches.
TRU 32 uses the injection-molded creation process to maintain excellent wall thickness consistency from ball to ball. While this aids performance with regards to consistency, it brings into question how the playability of this two-piece construction can hold up for extended periods of time. The answer?
"We spent a lot of time testing and tweaking the composition and eventually landed on a proprietary formula that limits rebound decay and helps maintain a crisp feel off the paddle, well into matches."
— Chloe Lee
ADVANCED MATERIALS ENGINEER
WILSON SPORTING GOODS
A result of leveraging past experiences and materials from balls across multiple sports, the composition of TRU 32 sparked hope for its performance durability stacked against the competition. Wilson's engineers conducted a lab test with TRU 32 and top competitors in the industry to help reinforce their hypothesis about the composition and its effect on performance. The results were quite encouraging.
FROM THE LAB: BALL REBOUND & DEFORMATION
Wilson's engineers conducted a lab test between TRU 32 and two of its top injection-molded competitors in the industry. This test measures average performance of two balls per brand in three phases: right out of the box, after 1 hour of play and after 24-hour cool.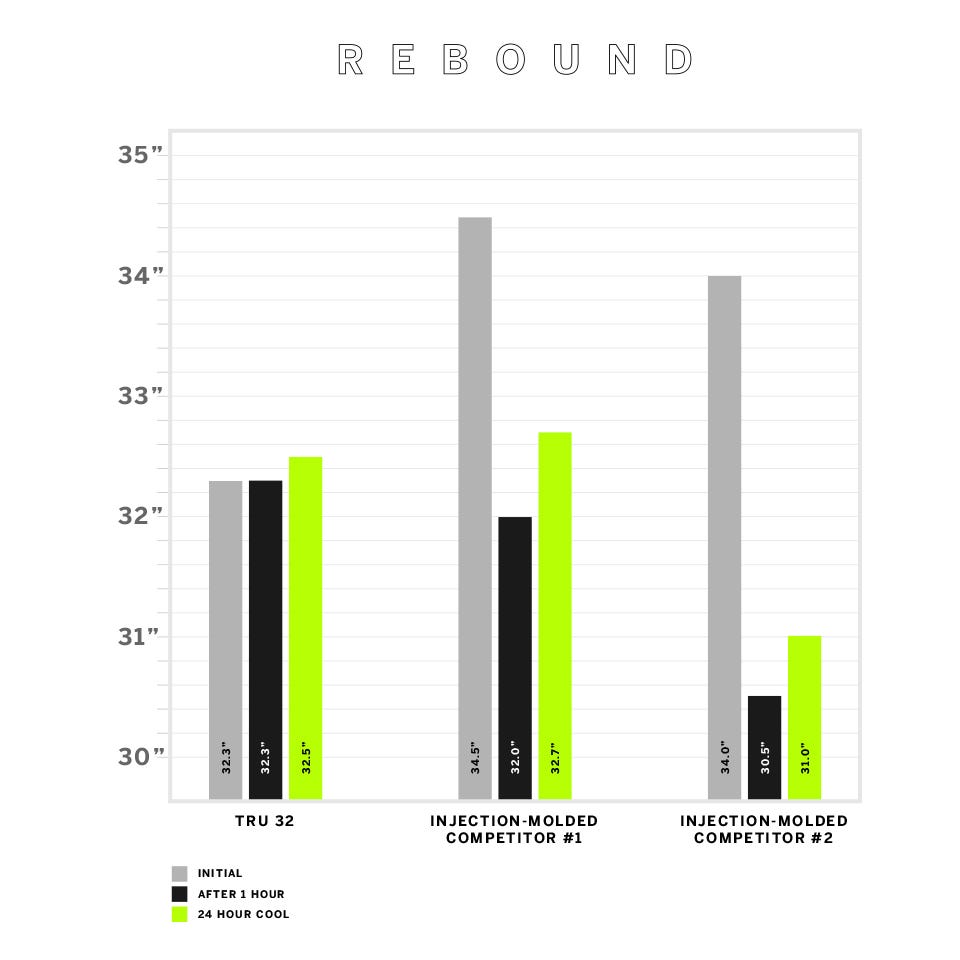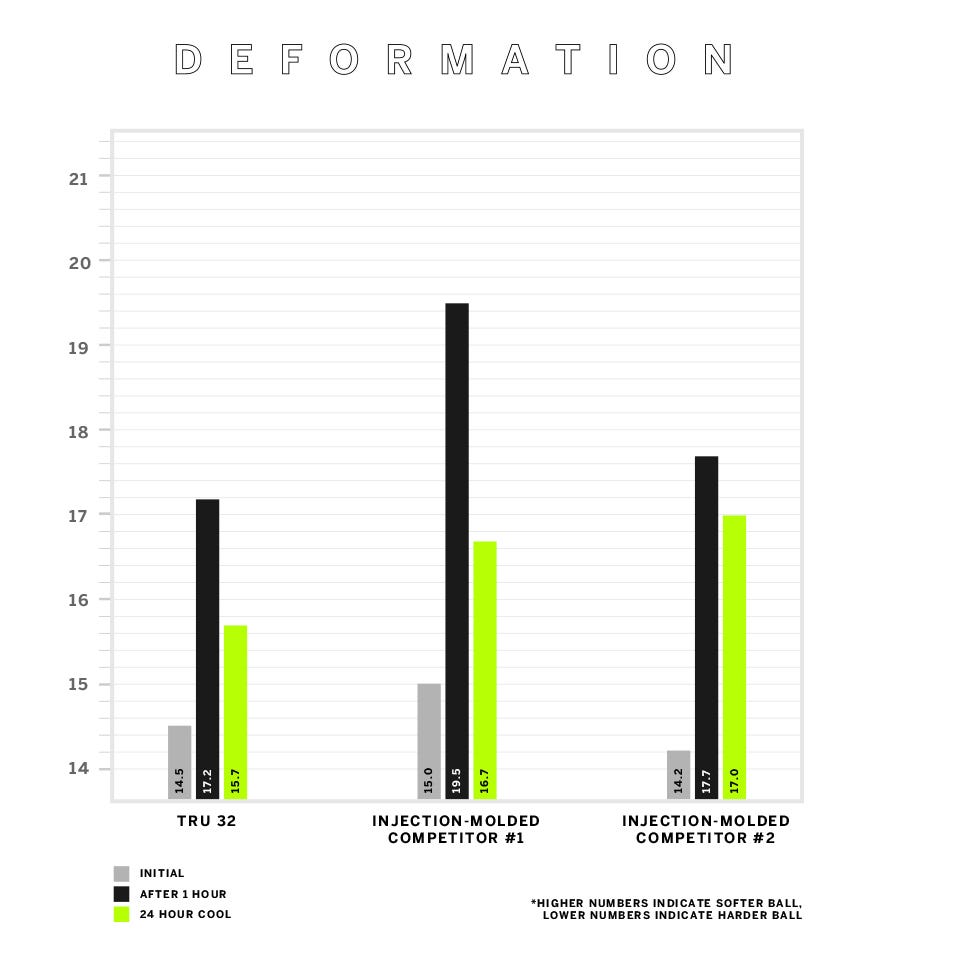 IT ENDS WITH A PLAYER-PREFERRED FINISH
Most pickleball players actually prefer a rougher, ready-to-play finish than a clean, shiny finish straight out of the package. These seasoned finishes tend to give players better feel for the ball and require less time to acclimate. As TRU 32 finds its way through a match, its surface picks up a "fuzz" that further enhances the surface properties for players to utilize for more spin, speed, and finesse.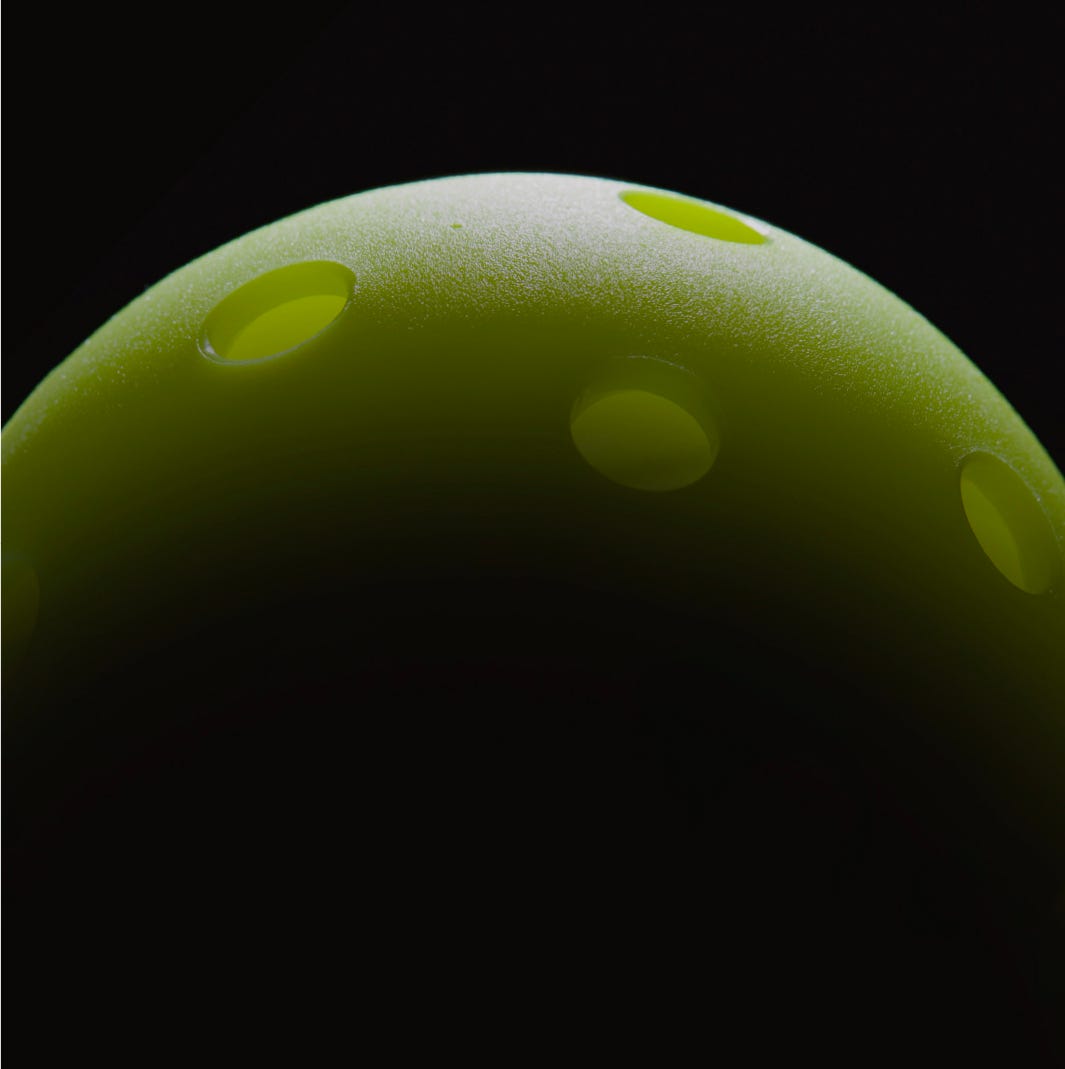 IT STARTS, AND ENDS, IN YOUR BACKYARD
Unlike most pickleballs in the industry, TRU 32 is manufactured and shipped entirely in the USA. Thanks to a dedicated team in Wisconsin tirelessly working to ensure these pickleballs meet and exceed the expectations of players across the country, TRU 32 is proud to call the USA its home.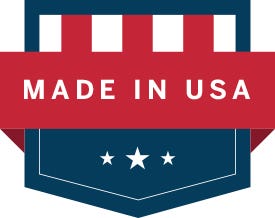 With a careful eye towards both lessons from the past and opportunities in the future, Wilson is dedicated to improving the pickleball player experience – from casually social and recreational players all the way to the most elite players in the sport. Want to know the core truth of TRU 32? This ball takes a big step for pickleball performance with significantly innovative design and construction, but this step represents just the first of many more to come for Wilson Pickleball.